Добавлена функция коротких ссылок в сервисе
17.07.2015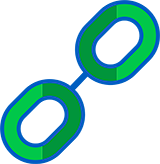 В сервисе появилась
функция создания коротких ссылок
для переходов на заданные страницы с возможностью отслеживания счетчиков переходов. Данные ссылки полезны для сокращения текстов и стоимости отправляемых SMS-сообщений, а также для получения статистики переходов по ссылкам из отправленных сообщений.
These links are convenient to use in SMS, MMS and E-mail newsletters. In addition, their use is recommended instead of other popular short link services, which can be blocked by operators due to the fact that they are often used in prohibited messages to hide addresses. Therefore, for a more guaranteed delivery of messages, use this function of our service.
There is also an option to automatically replace links with short options on the message sending page. In the case of e-mail newsletters, in addition, in the history of sent messages for each recipient, a sign of clicking links from the received email will appear, which is convenient for identifying recipients who are interested in your newsletter.
all news